Imagine yourself in the following situation: You are hosting a party. You need wrapping and party supplies. Where do you go? Dollarama. Now, picture this: You are done shopping at Dollarama. You are at the checkout. What do you see? A long line up. I don't know about you but whenever I shop at Dollarama, there is always a line up. Plus, I would consider myself a frequent shopper at the green store. Canadians don't like to admit it but most of us are frugal people.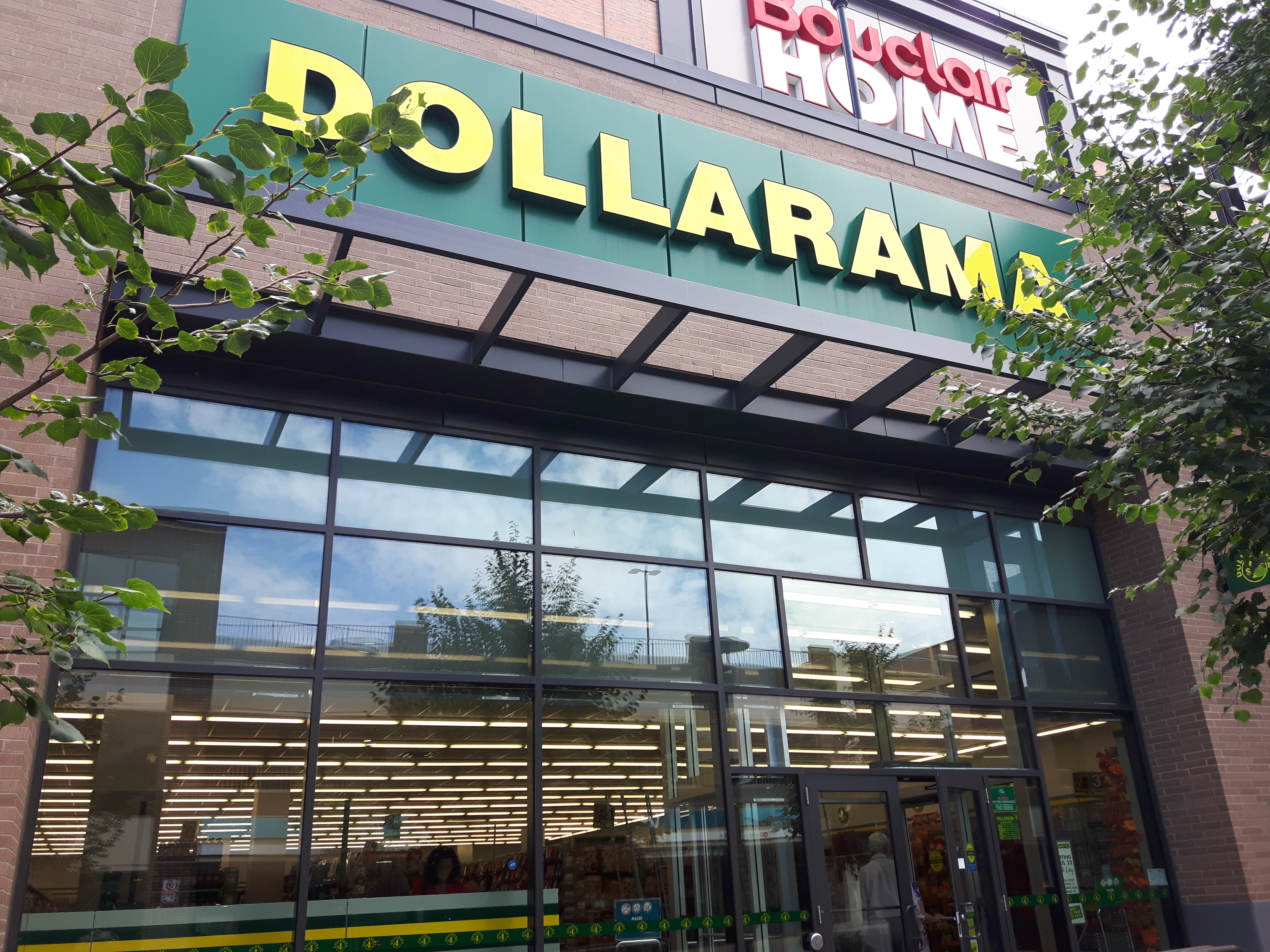 This morning, I dropped almost 5K in Dollarama stocks. I bought 106 shares of Dollarama Inc (DOL). Each share was bought at $46.92 for a total investment of $4973. Why did I invest in this company? Multiple reasons. Let's unpack the list. I am frustrated at myself why it took me so long to invest in Dollarama. I guess there's a reason the phrase "Better late than never" exists. Additionally, I felt I had to buy Dollarama shares following June's three-for-one stock split. Stock splits are generally perceived as a positive event but I don't know what real impact does stock splits have on a company's stock price.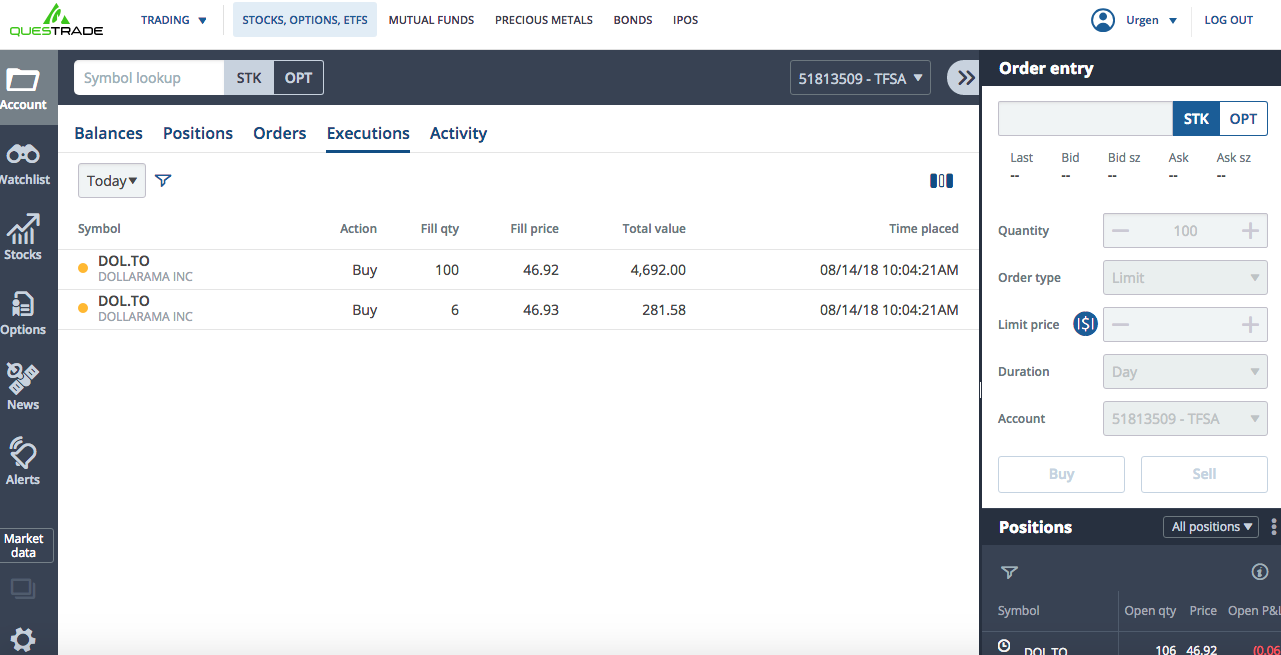 I was reading Dollarama's annual reports, 2018 report to be exact. (Clearly, you can tell how exciting my life is. If you want to be cool like me, you can read the report here. It's in PDF). As of January 28, 2018, Dollarama operated 1,160 stores across Canada. I was rapt.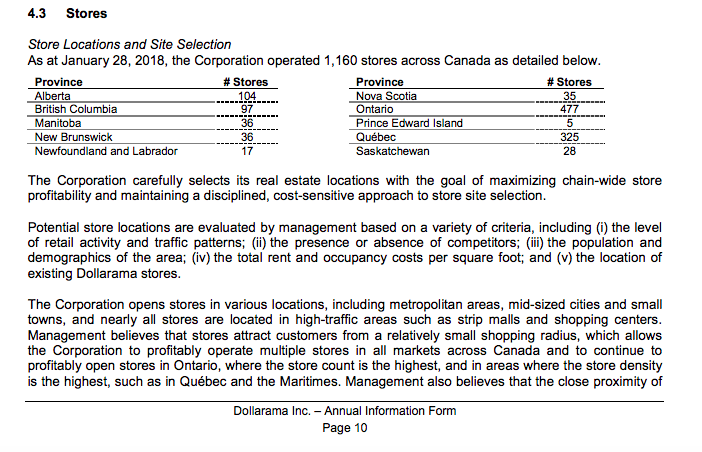 One of the primary reason, I decided to invest in Dollarama is because I believe this company is expanding quickly. From 2014 to 2018, this company has opened up more than 350 retail locations across Canada. Suffice to say, Dollarama is doing well. I don't want to miss out anymore on the growth of this company. Neither should you, dear reader.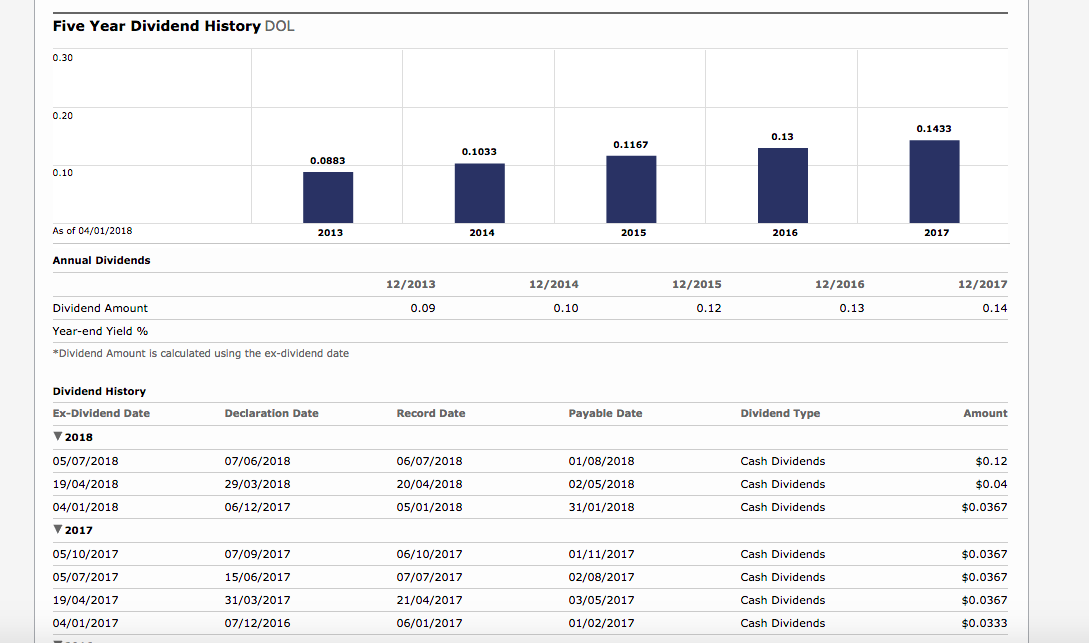 Like every other company, Dollarama faces competition. There are other dollar store chains in Canada, which includes Dollar Tree Canada, Dollar Store With More, Great Canadian Dollar Store and Buck or Two. Also, Japanese dollar store Miniso, which opened its first six stores in Vancouver last year has been described as Dollarama's biggest potential threat. I don't believe this is the case. I believe Miniso attracts a different consumer base from what I have seen so far. More importantly, Dollarama has the infrastructure to give it an edge over its competition.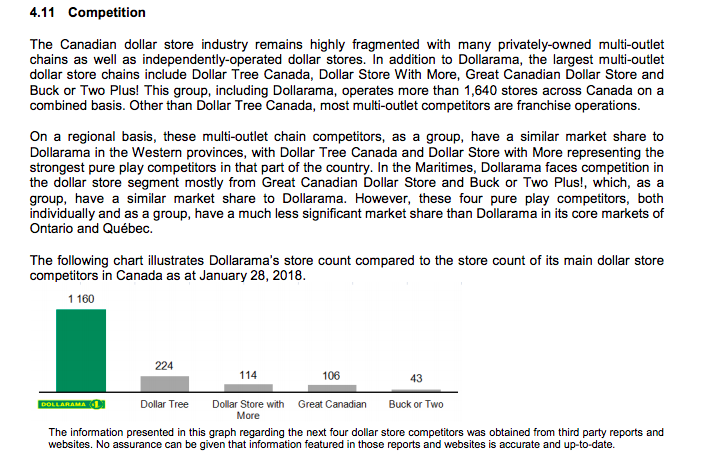 Heck, Dollarama announced it will offer online bulk shopping earlier this year and said will be up and running by the end of the year. This puts them in a position to compete with big retailers such as Costco and Amazon in online bulk buying. Again, this company is expanding fast and I don't think Canadians will stop shopping at Dollarama anytime soon. This means Dollarama's amazing record of growing profitability will continue and I want to make sure I get my share as well.
Now, two questions arise. First, will Dollarama's profit continue forever? I don't know. And, second, is there a chance my 5K will be washed away? Absolutely. Like I always say, once you enter the stock market, nothing is guaranteed. Please do your due diligence and if your stomach can't take it, you might be better off not entering the stock market. No exaggeration. Losing money is fucking brutal.
Having said that, I believe Dollarama is a solid long-term investment for me personally. Annual dividends have been increasing year after year, new stores are being built every year, long line-ups at the check out all the time, parking lots outside Dollarama are always full, et cetera. I have observed these things in my daily life. The plan is to hold this company in my TFSA for at least 30 + years. I am confident this investment will bring me closer to retirement sooner than later.
Lastly, forgive me for invading your personal affairs, but let me ask: How often and what do you shop at Dollarama?
P.S. – If you haven't and do plan to open an account with Questrade, you can use my affiliate link so both of us benefit i.e. you will get a cash bonus. I earn a tiny commission. There's no shame in asking for help especially when it helps both parties xoxo.