Nibin Thomas is the co-founder at Maker Watch Company. Nibin has worked for large companies in the USA and Canada and ended up leaving all those jobs to try and start something new every time. His entrepreneurial spirit has led to many non-traditional decisions in his life. Before joining his co-founder, Justin, full-time on Maker, he worked full-time at his 3rd corporate gig. He devoted his evenings and weekends to help grow the business and realized that he needed to be all in for us to get to the next level.
Maker Watch Company creates custom timepieces that tell a story. Every watch case, leather strap and wall clock is designed and handmade in Mississauga, Ontario.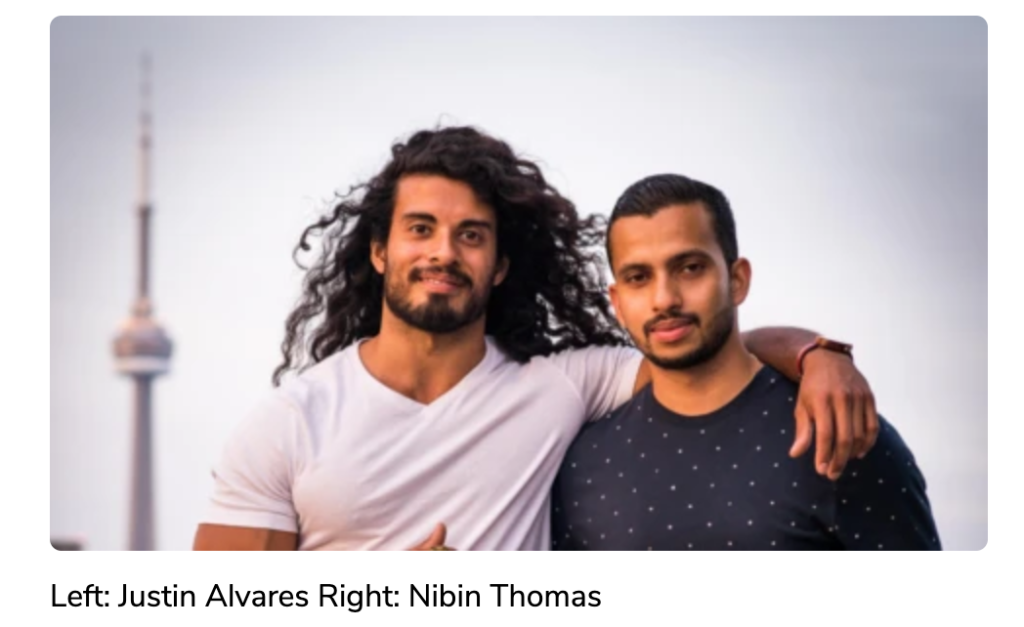 Urgen Kuyee (UK): Yo Nibin, thank you so much for doing this man.
Nibin Thomas (NT): No problem Urgen!
UK: Let's start with your background. Where did you grow up, which school did you go and what did you do before Maker?
NT: I grew up in South Mississauga (Clarkson) and went to University at Wilfrid Laurier for Business Admin.
Prior to Maker, I worked two corporate jobs in the Supply Chain and Procurement (Diageo + Rogers) field and helped found a not for profit (Football for the World Foundation) and for profit small business (Football for the World Development). I had a chance to live in Windsor, Chicago and NYC for a year each between 2011 – 2014 before moving back to the GTA.
UK: Got it. How did you guys get started? You and Justin said let's start a watch company and sell it online? How did it happen? Give us a little background story.
NT: Justin and I would try to meet up quarterly to catch up over coffee. It was the fall of 2016 while he was working construction that he picked up a lathe and began the process of trying to make a wood watch that he had sketched out. The entire process took him almost 6 months from start to end. I found the process really interesting and when he was done I posted the watch to the LyfeHappens Instagram (RIP) and my old high school teacher, Emidio Santroni, reached out February 2017 asking how he could buy one. That was our first customer.
We partnered up and formally founded Maker Watch Company in May of 2017 and it's been a wild ride of highs and low since then.
I ended up taking what was supposed to be a 6 month consulting contract in June of 2017 which ended up running for 2.5 years. I would devote a lot of evenings and weekends to Maker while consulting full time during the day. Justin was more or less all in since the beginning working on the product.
We were slowly picking up steam but it was not till March 2019 rolled around that I decided the only way to move the brand further was for me to also be all in with Justin. I created a 6 month transition plan to save some extra cash and then ended the contract in October 2019.
Then this thing called Coronavirus hit us late December 2019 (we sourced key components from China) and 2020 was a shit show LOL Since going full time we have seen our lowest of lows and our highest of highs all in 1.5 years but it's all part of growth I guess?
UK: I am going to echo what you just said, it's all part of growth, 100 percent. Thank you for the answer. What makes watches from Maker different from other watch companies? Why should people buy watches from you guys?
NT: Our timepieces tell a story. People come to us to commission a piece that they can wear or hang up in their house that embodies a moment in their life that is special to them. We have done watches to commemorate weddings, late loved ones, graduations, starting a business, pets, children and even 1MM subs on YouTube.
From a product standpoint our watches are unique looking with a mix of stabilized wood, resin and exotic materials such as shredded money, cigars, carbon fiber etc. The stabilization process for the wood is a 50 hour prep that we take to ensure the wood is as resilient as it can be to face the elements. We do all our design and manufacturing of the watch case, wall clock and leather straps in house.
UK: Yea, I have seen some of your IG posts and videos. Watches look awesome. Let's go back to March, 2017. Our mutual friend Clyde who is an average soccer player but a great friend introduced us. Clyde usually plays as a right back so he used to take all the throw-ins during our soccer games. I played right attacking mid and he used to throw the ball to me all the time. I miss those soccer days man. Anyways, Clyde introduced us. We spoke on the phone for about half an hour and next thing, I was in your house to do a podcast. The blog post I published about appearing on your podcast more than 4 years ago is still live on my site.
I vividly remember after we stopped recording, you told me you were doing something about selling watches online with your friend. Correct me if I am wrong but I think you were showing me Maker's IG page. Since then, Maker's growth has skyrocketed. You guys are killing it. Talk to me about Maker's journey.
NT: I would have to agree that Clyde's a better guy than he is a soccer player (he'll like that and will be texting me soon). I recall that podcast vividly, you had an insane passion and energy for personal finance and it's been amazing to see you be consistent and grow. Really respect it and think you are also crushing it!
On my end with Maker, it's just been 4 years of grinding (literally) and a lot of trial and error. Truth is, we don't have it all figured out and are from it. We've just embraced change a lot and have always made an effort to treat our clients with the highest regard. We have not really spent any money on advertising but we are now getting to a point where it makes sense to start investing in that and start working more on our business than in it.
A lot of the credit goes to Justin, the man has been down in his basement for the majority of the last 4 years tinkering away at making a high quality product. It's been incredible to see where we've been able to take it with his ingenuity. From a raw piece of maple glued together to what it is today in 4 years. Wild.
I'd like to say that my role has been taking care of all things non making to afford Justin the time to focus on product. We both have our strengths and focus on those.
We say 2021 is our first real year of business because we spent 2017-2020 learning how to make a quality product with bootstrapped means.
We are now in a phase where we need to start scaling demand and production in order to transition from a Hobby to a sustainable business.
UK: Got it. Yes, Clyde is awesome and Justin's hairdo is fire. But, for the young entrepreneurs who are reading this, they might want to hear your thoughts. What mistakes did you guys make during your early days? How did you guys get your first client? What did you guys do for marketing? Do you guys send newsletters? I know you guys use Facebook, IG and you-tube to promote as well. What has worked best?
NT: Too many mistakes to list and for the record we continue to make them – it's part of the process. A few that stand out:
Stockpiling too much inventory with not enough demand
Making a lot of our own packaging as it took time away from more important aspects
Not asking for help from mentors or more experienced entrepreneurs earlier on
Relying too much on organic social and not investing in paid marketing
We got our first client and the first handful for that matter organically from our personal networks. It was not until we started Instagram did we got new clients with no relationships.
Marketing from 2017 to 2020 has been primarily organic via Instagram and word of mouth. Growing on Instagram organically is very tough now (except for reels) but there is still some organic reach on TikTok.
We were randomly sending newsletters up until this past March where we started to take it more seriously. We now send a weekly email every Tuesday morning. We do need to further invest in some email marketing automations but there is only so much time in the day!
Our lifeline this past year has been TikTok. We had a video go viral in January and it rallied up to 2.3MM views. January sales was our best month in history as a result (coming off our worst). We also recently hit another semi-viral video on TikTok that rallied up to north of 800K. We know all good things come to an end so we're trying to take advantage of the organic on TikTok while it lasts.
Otherwise we'll be investing regularly in paid advertising as the waves on organic are not sustainable to run a healthy business.
UK: Wow. 2.3MM views. That's impressive and Congrats. Recently, I saw on Maker's IG page that you guys will start accepting Bitcoin as a payment. I smiled that day and you know, I am a huge proponent for Bitcoin. Why did you guys start accepting Bitcoin?
NT: Thank you. For the record we started to offer BTC and ETH as a payment method months before Elon accepted it for Tesla. In short, it's 2021 and we think it hurts us more to not have exposure to it. Not a lot of people are willing to give up their BTC (smart on them) but we did get an apparel sale for $65 which now is worth around $150. Nothing life changing but pretty cool to have stored in our company wallet. We do believe in BTC as a store of value to hedge inflation and feel the way to show that we support it is to allow our customers to use it as a payment method.
UK: Yes, you guys offered it before Elon for sure. When did you first hear about Bitcoin? What is your Bitcoin story? Do you mind sharing with us where you buy your Bitcoin and how do you store it?
NT: I first heard about bitcoin in 2013/2014. A close friend who is pretty established in the tech scene had 200 BTC. He ended up selling them in 2014 and made around $40K. I ended up personally investing a little in 2017 after the same friend said it was something to consider and have been holding ever since. Nothing life changing but can't complain about the exposure and appreciation.
I originally used a combination of Coinbase and Binance but now keep it simple with ShakePay and I store things in cold storage using a Nano S.
UK: Great. I personally use Coinbase and Shakepay as well. Shakepay mainly and transfer it to my trezor wallet. Before we wrap up, what advice would you give your 20 year old self?
NT: I'd tell my 20 year old self to start ASAP and tell him to be patient. We started this business in our late 20's and life priorities change quickly in your early 30's so if I could go back I would have started the entrepreneurial journey as early as possible. Time is your biggest asset, don't let it go by.
UK: Awesome. What is the best way for people to reach you and find out more about Maker?
NT: Website: Makerwatchcompany.com | e-mail: create@makerwatchcompany.com | instagram @MakerWatchCompany | TikTok: @MakerWatchCo
UK: Got it. Thank you so much for your time today Nibin.
NB: No problem. Love reading your newsletter man, keep up the fantastic work!
This interview has been edited and condensed. Thanks to Nibin Thomas for his contributions, all errors are mine.