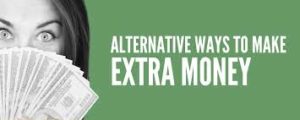 Look, I am a huge advocate for saving money and cutting out expenses but you can only save so much. Hence, I believe it is a great idea to see what other options are out there in terms of making more mulah. Whatever you goals are, finding ways to make extra money can have a huge impact on your financial life. Today, I am going to share three ways to make extra money in 2017 from my own personal experiences. And, Maybe a couple of bonuses at the end. Why not?
Use Kijiji: If you have never posted an ad or sold an item on Kijiji, I just shed a tear for you. You can use the service for free, take advantage of it folks. I started using Kijiji about 6 years ago and I have never looked back. Plus, I have already earned thousands of dollars selling items through Kijiji. I have sold all my nursing textbooks, TFC tickets, Raptors tickets, a couple of soccer cleats, soccer jerseys, TTC metropass, clothing items, shoes, a few gift cards and the list goes on. The best selling item has been the metropass so far and an ad on metropass always gets the most inquiries. I usually do a quick math and if it makes sense for me, I sell it during the middle of the month. Sometimes, my parents are travelling and there will be an extra metropass in the house. You will be surprised how many Torontonians lose their metropass every month. People are so careless. Ugh! Warning: Please make sure you meet the buyer at public places such as subway stations, malls and public libraries. This may sound obvious and you might be saying DUH but I have heard some bad stories. I have never experienced anything bad so far but again, I have heard some bad stories. Remember, the buyer is a stranger, not your BFF. My favorite spot to do my Kijiji "transaction" is the Toronto Reference Library at Yonge and Bloor. 3 years ago, one of my transactions went sooooo smoothly – I felt I needed to celebrate. I stayed back in the library for two more hours and read Blink by Malcolm Gladwell. Yup, that was my celebration. Clearly, you can tell how exciting my life is. Ah, good times.
Answer Surveys: This one is a new one to me as well. I found about surveys through reading blogs post by other personal finance bloggers. There are numerous survey companies you can join but I would recommend three that I have joined myself. Swagbucks , Opinion outpost and Harris Poll Online. Now, you might ask or wonder, are these surveys real? Simple answer – Yes. I have started doing surveys with all the three companies mentioned above and started collecting points. You can exchange the points for gift cards from Amazon. Or, you can get cash through PayPal. Look, answering surveys wont make you rich like Bill Gates. Also, some surveys are long and it might take some time before you earn yourself a 25$ gift card for Amazon. But, most of us have a smartphone and we can do the surveys anytime, anywhere and whenever we feel like. I answer surveys when I am taking the bus, during my work break when I hear too much gossip and when I am in the washroom for number 2. You can listen and fill you brain with toxic gossip or you can put some cash in you pocket. The option is yours. If you like my work, please help me out by signing up for swagbucks here and opinion outpost here. Both are free to join and you can earn some free money yourself by answering surveys.
Start a blog: If you want to learn how to make extra money, I would strongly advice to start a blog. Some people make their living through blogging. If you have no idea at all, I would say start with WordPress .It is free and very easy to use. In fact, I started with WordPress as well and still do use WordPress. From my personal experience, I started writing blog posts as a hobby and to educate my nursing classmates about personal finance. You can read one of my first blog about EQ bank here where I make fun of my nursing classmates and ahem, it was also featured on The Globe and Mail. I started to write more blog posts and one day, I got a random message on my LinkedIn. The message read something like – Urgen, can you write a blog post for our company and we will pay you x amount of $. I took a deep breath, smiled and sent an email to Ellen Roseman asking her about how freelance writing works. Then, I replied – Are you willing to pay me more? I started to negotiate which I believe is so important. Long story short, the company didn't pay me more but did pay me a decent amount and that was how my journey started as a freelance writer. I believe it is just human psychology but once someone pays for your work, you just become 1000 times more confident. If you are nodding your head and saying, "I agree 100%", you are not alone. Today, writing blogs is my number one "side hustle" when I am not working as a nurse. Moreover, I have the luxury to say no these days. I have rejected a couple of companies who offered me to write for them because the offer was meager. 7 cents/ word? Yawnnnnnn. Please forgive me for refusing the offer because it does not reflect the value, time and effort I put into all my blog posts so readers like you can enjoy a well-researched article.Also, I have been fortunate to be featured twice on a national paper.
Remember the bonuses I was talking about in my first paragraph. Here they are. The first one is not necessarily making extra money but keeping more money in your pocket. How? Outsmart the banks. That's right, especially Canada's big 5 banks. BMO, TD, Scotia, CIBC and RBC. Banks love charging fees to their customers and continue to enjoy big profits. Don't forget, they are a business and will generate revenue through us (loyal customers). In fact, all 5 banks have kept on increasing their monthly checking account fee. You can only skip the fee if you maintain a certain amount of balance ranging from $1500 to $3500, depending on the account. I call this BS. Why would I keep my money in an account where I am earning zero interest? Why I would let my money lose value due to inflation? It makes no sense to have thousands of dollars in checking accounts. Of course, it makes sense for the banks. Anyways, I had invested some cash in a NON-CASHABLE GIC. When I figured investing in GIC was not as appealing as I thought, I wanted to cash out my money. But, the problem was it was locked in and it was not even halfway through the maturity date. However, instead of paying the $50 fee for early withdrawal, I just had to pay $20. How? I went to the bank and had to set up an appointment with a financial advisor. Her first answer was I had to pay the $50 fee as I was cashing out money from a NON-CASHABLE GIC. She was correct but I know some rules are meant to be broken. So, I told her I have been doing business with the bank for 10 years and this is my very first mistake. Oh gosh, her facial expression changed, her tone changed and she told me she would be back in 2 minutes. She came back and said she spoke to someone (I doubt she did). I just had to pay $20 and was able to cash out my money. Everything was done in less than 10 minutes. Another personal experience was I had made a money draft and I had to pay around $12 I believe. I was trying to be frugal like always instead of ordering a bunch of personal cheques. Well, it backfired. I could not use the money draft. Again, I went back to the bank and explained my situation. I played dumb and said this wont happen again. I was very polite too. I didn't even have to make an appointment; the bank teller asked the manager who was right behind him and happily refunded my money. It took less than 2 minutes. My humble advice would be – speak up and be ready to negotiate with your banks. Oh, I listened to this song by DJ Khaled on my way back home – All I do Is Win.
The second and the last bonus on how to make extra money in 2017 is a very interesting one. You can make money by cuddling with strangers. That's right. In fact, you will be paid $80 per hour. Shocked? Me too. Check their website here. Personally, I don't know if I will be able to sell cuddles to strangers but if you want to, why not? Kudos to you. I am not judging anyone.
What other ways do you use to make extra money? Sharing is caring xoxo