K, I just finished talking to peeps from Freedom mobile on the phone about 2 minutes ago as I write this blog post. I had to make two calls. Let me explain. The first call, I was on hold for 6 minutes before speaking to a live agent. I was ready for this. I was calm and as polite as a granny. Unfortunately, he could not fix my phone plan situation. Well, he gave me a shitty deal. He said $5 off for the next four months. Vomit. I knew this was coming too. I prepared myself by reading this step-by-step guide by Young and Thrifty. So, I said – "I am sorry but do you mind if you could transfer me to your manager?" The agent acted accordingly. No problem. Waited in line for 10 minutes. Nothing. 20 minutes. Crickets. I was getting annoyed with the "The pre recorded, we are experiencing higher then normal call volume". I whispered to myself, "Urgen, fucking relax". This was expected. DUH. Finally, after about half an hour, the manager picks up the phone. Then, he says he can't hear me but I could hear him very clear. Bullshit. He said he would call me back and hung up one me. He did not. Traitor, I thought. I frowned, scratched my cheek. I make my second call. Again, I wait in line for 7 minutes before I speak to a live agent. The first thing I ask him, can you hear me? He said yup. I wonder how the manager could not hear me speak. Again, same line – please transfer me to your manger or a supervisor. The second agent used the term supervisor instead of a manager. Same shit. Now, this wait was longgg. I had to wait for an hour and 10 minutes. I am not kidding. WTF? I almost lost it. I opened my headspace app on my phone and started meditating for 3 minutes. I am calm again. Whoever created headspace, kudos to you. You are spreading magic.
Please forgive me, I digress. The supervisor picks up the phone and he is very polite. Remember, I am polite as well. I explain my situation and he says he understands, blah blah blah and apologizes as well. I got his name too – Gopi. I tell him I have been a loyal customer, always paid my bill on time, etc etc. Unfortunately, even Gopi could not help with my plan. Basically, my problem was I didn't want to pay $50.85 every month as I was so used to paying only $39.55 every month. I had got a promotion deal last boxing day where I would get $10 off for 10 months. The promotional deal was over but I was like how? There's nothing wrong with negotiating with these phone companies. We go back and forth but nothing appeals me. So, yes, I cancelled my contract with 11 months still remaining and had to pay the remaining balance on my tab. (Note: The best time to negotiate for a better deal would be when you have six months or less in your contract). Anyways, I downgraded my plan to 33.90 per month after tax for time being. I am free to cancel my plan anytime I feel like. I paid the remaining tab balance and the total came to $129.46. Then, Gopi says there is $2 fee charge for phone assistance service as he "helped" me cancel my contract. WOW. I LOLed. That bought up the total to $131.72 (There goes one of my spicy beef patty from Kennedy station).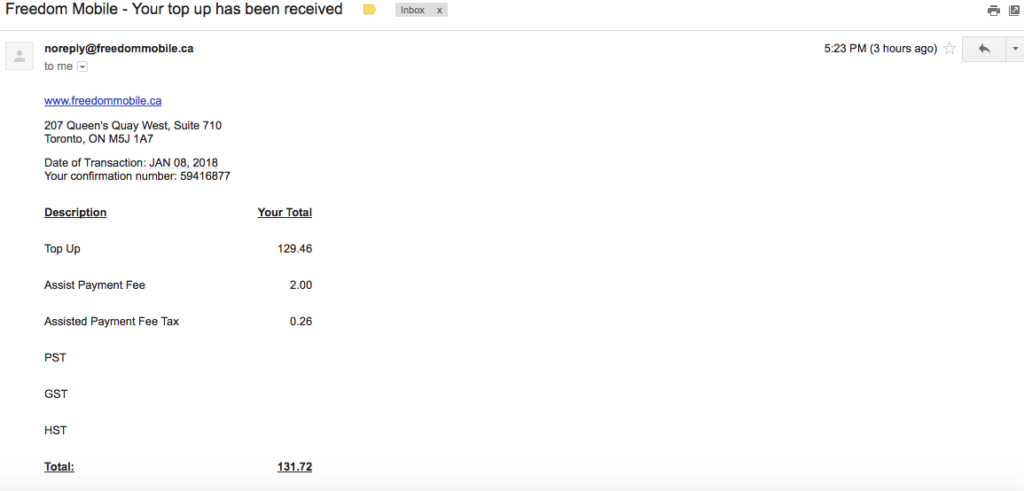 He did mention he will waive the $2 fee if i stay with Freedom. Plus, I did the math before I cancelled my contract (Obviously). After paying the $131.72 for the balance on my tab and cancelling the contract instead of paying $50.85 for the remaining 11 months, I saved $59. Look, as a nurse I get paid $30/hr. So, do the math. $59 for an hour and half of my time on the phone negotiating, not shabby. Lastly, Gopi gave a code to unlock my phone if I do join a different phone company for being a loyal customer. When you put your new sim card in your old phone, they will ask for this code. My advice is ask for the code if you ever plan to change phone companies but plan to keep the same phone.
I am aware waiting on hold is a top complaint for all other major telecommunication companies notably the 3 big ones – Rogers, Bell and Telus. I have heard worse stories than the one I experienced today. However, I expected better service from Freedom. Being on hold for an hour and 10 minutes is unacceptable. Further, on my first call, I was waiting for the manager to reach me. Nothing. I regret not jotting his name down. Rookie mistake. Have you experienced similar experiences being on hold for longer than an hour with any of the telecommunication companies?