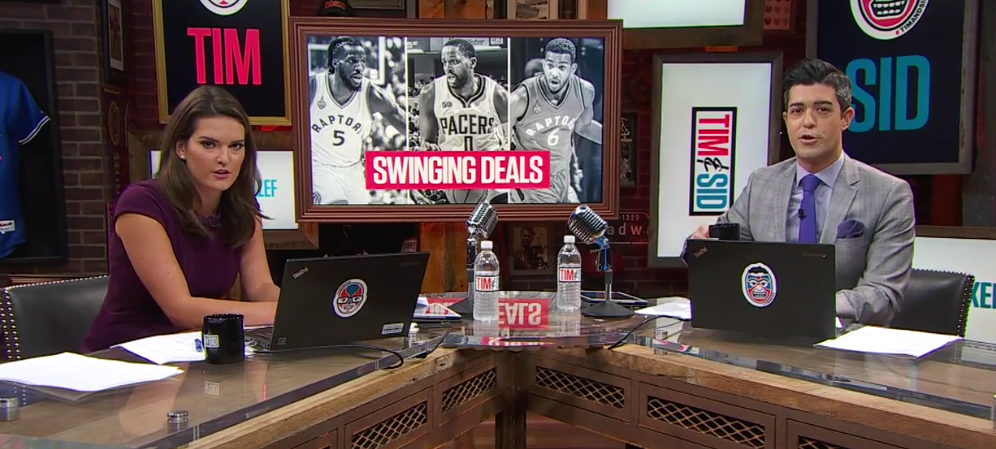 This interview took place at Williams Fresh Cafe, located inside the Purina PawsWay building on July 6, 2017 (Thursday @ 1530). The duration of the interview was 15 minutes and 13 seconds.
Urgen Kuyee: Thanks for talking to me today, Brendan. Tell me a little bit about yourself. Which school did you go to? How did you get into sports broadcasting?
Brendan Dunlop: Sure. I am obsessed with sports, fell in love with it from a young age and realized also, at a young age I was not very good at playing it. So, I think that helped me choose a path to want to do something in sports and sports broadcasting was something I wanted to do since I was in grade eight. So, I went to the University of Guelph-Humber. I took journalism and communication there and then, I started interning at theScore after my second year of university. It just kind of went from there. I did radio at theScore. My first job at theScore was an archivist so I worked in the media library basically. Then, I started working in radio as a sportscaster, I did like updates twice an hour. Then, I did a soccer show with the two English guys that did the TV show on the Footy Show but I did the soccer show, I produced and hosted it and that was a huge learning experience, did that for 3 years. If it wasn't for that, I don't think I'd be still in the industry. I think those guys helped me so much I learned so much in that short period. And it was a long grind for a while and then, Sportsnet came calling in 2012 when they did a show with Fox called Fox soccer news. So, that's why I left theScore for that show and then, full circle only a couple months later, Rogers bought theScore. Now, I work with a lot of my old colleagues from theScore. And, yea my five years at Sportsnet is coming up next month. So, time flies man.
UK: So, that was my next question. How long have you worked in Sportsnet? Five years next month.
BD: Yes.
UK: As a nurse and a freelance writer, my schedule is all over the place. How does your schedule differ from the normal or BORING 9-5?
BD: Hahaha. Basically, when they are waking up, probably I may have just gone to bed a few minutes ago or an hour ago. I would say I don't do mornings, that's my life. I never schedule any appointments before noon. Sometimes when I have to do things at 1'o clock, that feels early for me. So, yea my sleep schedule is, I go to bed around the time when the sun is coming up and I wake up anytime between noon and 2:30.
UK: What advice would you give to someone who sees him or herself working in sports television in the near future?
BD: Patience is one. I think media in general, while there is so much more opportunities, while there are so many more avenues, it really is almost as small as it's ever been. It's only a few companies that run the whole media landscape. There is actually a lot less jobs than it feels like. I think patience, persistence, hard work and the same advice that existed twenty years ago exists today even more so. You can't be in it for the money. Sometimes, the money comes. I am not saying it's not there but for the majority of the people, it's a real REAL hustle. It's a real low money hustle. So, that's my advice to students all the time. You got to be patient and you cant be chasing it for the money because as I say, while it's there at the top for some people, you will go crazy to get to that point and that's the exception, not the norm.
UK: Would you be able to tell me about a typical day or a shift at your workplace before you go live on TV?
BD: Yes, my Saturdays and Sundays are almost always the same. In the winter, it's obviously the busiest with hockey and basketball. So, I usually go into the office for about 6 or 630pm. I watch games from 7'o clock on as I write and prepare for the show. The show is on at 10'o clock for an hour. I do that one show with Martine Gaillard and then, I do another show at 1am with Jackie Redmond. And, usually at that point at 1am almost all the games are done and we are giving the full recap of the whole day and that show works as the morning show. So, I go in 6 or 630 and I leave 230am, having done two full hours of TV and watching as many games as I can handle.
UK: Are you aware of any schools in the GTA that have good programs for sports broadcasting or radio and television?
BD: Yea, the college of sports media seems to be the number one. They are a specialty like sports broadcasting only. I think it is a two-year program and the kids spent like 18 grand a year.
UK: Wow.
BD: But, they get the most access to the sports media. For example, like nearly every intern that I've seen in the last five years has been from there. Not all of them but I would say upwards of 80% and those are the new kids that get jobs. So, I'll speak to people that have been in Sportsnet for 3-4 years and they work in a different department and I haven't seen them before. I can't believe how many people have been to that school. It really is an overwhelming number.
UK: One of the biggest advantages of working in the healthcare professional in Ontario as a nurse, physiotherapist, dietitian or anyone working in the healthcare industry is that we are eligible for an amazing pension plan called HOOPP. Do you guys have a similar pension plan as well provided by Rogers?
(For those interested, you can read my interview I did with the CEO of HOOPP in March here.)
BD: Yes, there is a pension plan that we can buy into. I personally haven't. I do my own investing but yea, there is a pension plan. I don't know too much about it. They have a stock plan which is probably more people get into because they will match your contribution I think by 50% after you have been there for three years. I know more people in that plan.
UK: Interesting. I read a couple of your blogs on your word press site. As a writer, I was extremely impressed. Most writers read a lot. Do you read books often?
BD: I don't read as much as I should. I go through periods but I would say overall over the course of my life, I probably haven't read that many books. Maybe I have read 50 biographies but I don't think that for someone whose job is speaking, I don't think I read as much as most. I do read a lot online, I do read a lot of articles, I read constantly but I don't read books. I can't seem to get into a groove where you know reading as a part of my day. When I go into cycles, I think that's when I crush books. I think I went through one period last year where I read probably seven biographies in like 4-5 months but I haven't read one in over a year.
UK: I am aware you are a huge Aston Villa fan.
BD: I am.
UK: What's your take on Villa signing John Terry? He's 36, 37. Will Terry help Villa or is it a bad signing? I am not sure. It's your take.
BD: Haha. Honestly, at first when I heard it, I thought it was crazy. I thought it just shows how backwards Villa still thinks. However, now I am thrilled. For all of the problems he creates in the dressing room as had in the past and his issues off the field, I do think that he is a proven leader. I really do think that he gets the best out of the people around him and I think that he has a stature in the level of class that is what Villa like used to be and want to be again. So, I think it works well for all sides. I think for him, he's a little bit under the radar, which he has never been. He's always been very much in the spotlight, always been highly criticized or able to be highly criticized. So, now I think it's nice that he can almost kick back a little bit. He doesn't have much pace but that was never his game. I still think he's a good defender. He showed last year in the chances he had. Like his positioning is huge but his biggest impact is he makes everyone around him better. For a team like Villa, they are desperate to have that. So, I am excited he is there.
UK: You think he still has a couple of good years left on him.
BD: Yea, I think so. I don't know whether he will play two years for Villa but I think he can play in the premier league again. Also, I thought before signing him, they should be contenders to go up, they should go up. Now, I think they are favorites to finish top two. I think he just alleviates the game huge.
UK: Now, let's talk a little bit about our Thursday night footy team, QPS. In fact, we have a game tonight at 10pm. You are the coach/captain/striker of the team. What are your chances of winning the championship this season?
BD: Oh man, well, it depends how many games you can play bro.
UK: Hahah
BD: I think you know getting to the playoffs is the goal.
UK: I believe we will make the playoffs.
BD: I think so. We are playing the last placed team tonight. So, if we can beat them and get some confidence. Honestly man last week like you, what I just described about John Terry is actually you. When I was walking back to the car after the game, me and some of the other guys were talking, you up everyone's game.
UK: Thank you sir.
BD: You involve everyone right. Like I got a lot more touches on the ball because I was playing with you. You lay the ball off. Whether it's the first pass to me or the next person, we move the ball so much more and everyone gets more confident right. So, I think that helps huge. I think going into tonight, especially if this team is poor, it will be huge for us. My goal is to get to the playoffs, maybe get to the second round of the playoffs at least and then, my title would be for me to keep 10 of those 12 players for next season. That would be my big championship.
UK: I checked the scoring list just an hour ago. I was very disappointed when I didn't see your name?
BD: HAHAHA
UK: Shout out to Reggie for scoring 4 goals, highest scorer for QPS. Are you going to score your first goal tonight or what? Season is almost done bro.
BD: You know what since you can't play next week I think I'm going to have to. The pressure is on. I got brand new boots.
UK: Nice.
BD: I think I might wear them tonight so we'll see if the magic is in there. I was just running around with the dog in the park here. I feel like there's a better grip on these boots so I think my first touch has been elevated now. So, now I need to finish. That's the goal.
UK: Hypothetical situation: If QPS does end up winning the championship this season, how would you celebrate?
BD: Retiring. I think I should retire. Just go out on top. No, hahah. I need to play otherwise I will get fat and I wont fit into my suits. I have to keep playing.
UK: We are almost done. Quick one word answer. Messi or Ronaldo?
BD: Ronaldo. No doubt. I can give you 3000 words to validate it. You already knew the answer before you asked the question.
UK: Books or Podcast?
BD: Uhh, I listen to a lot of podcast. Podcast helps me consume more.
UK: Cash or Credit Card?
BD: Credit, points man.
UK: TFSA or RRSP?
BD: TFSA.
UK: Nutella or Peanut Butter?
BD: Nutella, European man.
UK: Toronto or Windsor?
BD: Toronto
UK: Steve Nash or Christine Sinclair?
BD: Uffff. That's a great question. Christine Sinclair because I think in a lot ways her reach is almost bigger. I think Steve Nash brought a lot of Canadians into basketball, he attracted a lot of like Canadian men into basketball who probably would have liked basketball anyway but I think Christine Sinclair brings a lot of women and men to soccer. She has a bigger reach even though she has a quieter personality.
UK: Finally, one word to describe Brendan Dunlop.
BD: Oh, uhhh hahaha. Late. I am always late.
UK: Thank you for talking to me today, Brendan.
BD: Yea, no problem.
You can follow Brendan on Twitter here.
This interview has been edited and condensed. Thanks to Brendan for his contributions, all errors are mine.