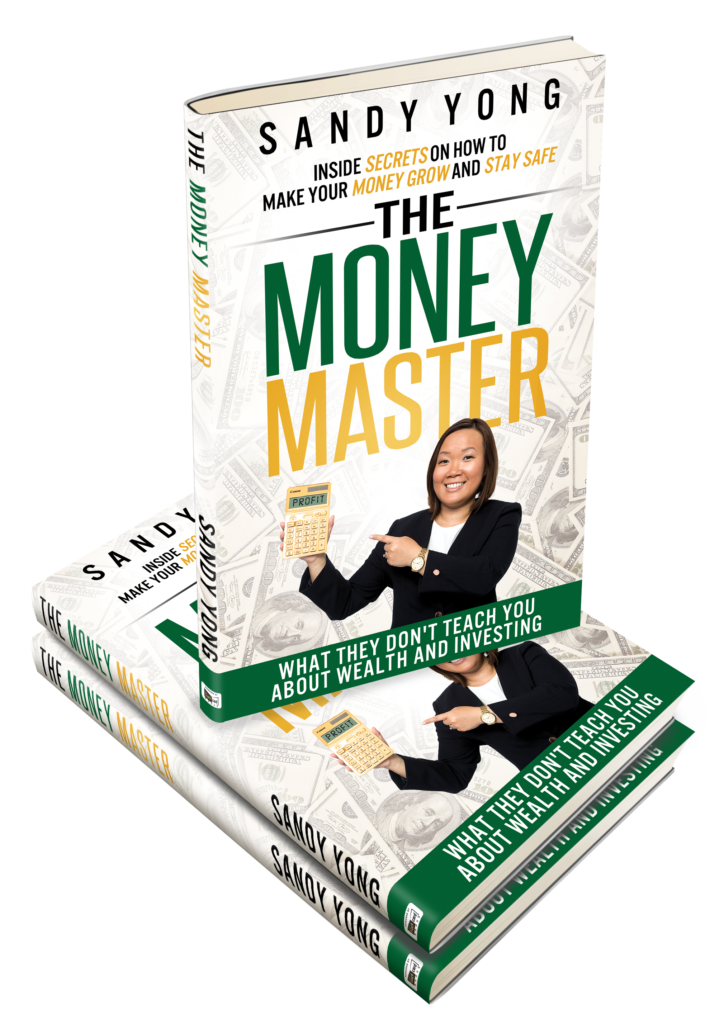 Sandy Yong has been an avid DIY Investor for the past ten years. She took her financial matters into her own hands when she lost money in mutual funds recommended by a financial advisor at a big bank. She decided to become a self-taught financial and real estate investor. She also has experience running her own internet marketing business. With her passion for personal finance, combined with her public speaking skills, she's the author of an upcoming book called The Money Master: Inside Secrets on How to Make Your Money Grow and Stay Safe. What They Don't Teach You about Wealth and Investing. She speaks on this topic at numerous workshops and conferences.

We met at a Toronto Public Library workshop led by Dan Bortolotti from Canadian Couch Potato. After exchanging a couple of emails, we met at the Toronto Reference Library on April 15, 2019 (Monday @ 1800) for this interview. The duration of the interview was 22 minutes and 17 seconds.

Urgen Kuyee: Hi Sandy, why don't you let my readers know a little bit about yourself? Which school did you go to? How did you get into personal finance?
Sandy Yong: Sure. Thank you Urgen. My name is Sandy Yong and I am an author of the upcoming book, The Money Master: Inside Secrets on How to Make Your Money Grow and Stay Safe. When I graduated from Hospitality & Tourism Management program at Ryerson University in 2009 during the economic recession, I was fortunate to find a corporate job and pay off my student debt right away. Then I realized that I needed to save up money for life's major milestones such as buying a car, down payment on a condo, having my dream wedding and of course, retirement. Like most people, I went to one of the big banks and got burned by mutual funds.
For the past decade, I have read several personal finance and investing books and I was able to create a six figure investment portfolio by age 27. I also own a couple of income properties with my husband. With my experience, I felt that I could help teach others to be financially savvy and independent since so many people struggle with living paycheque to paycheque or could barely save for an emergency fund.
That is why I decided to write my upcoming book, The Money Master. I feel that if I can help people overcome their fears and failures and get back on track to achieve financial stability, then I am helping to make the world a better place. I am dedicated to helping empowering millennials to become financially independent.

UK: You have enjoyed a 10 year DIY investing career. What advice would you give to a smart, driven college student about to enter the "real financial world"?

SY: Yes, I can definitely relate because I have been in the same boat as many young professionals.I know many people who want to start but don't know where to go. I would encourage students and young professionals to look up personal finance books, blogs and podcasts. You can go to your local bookstore or even find free resources through the Toronto Public Library. It was there that I had learned all the fundamental strategies that I needed in order to start investing into the stock market. Also, it's not all that complicated once you know the basics. Once you know the basics you can automate your savings and investments, but it will take some time to apply the knowledge you learn.

UK: I can concur about Toronto Public Library. It has helped me a lot personally as well.

SY: Yes. Exactly.

UK: Let's talk about your book, The Money Master. What led you to write this book?

SY: The Money Master book is focused on three pillars: creating your own financial portfolio, investing in real estate and entrepreneurship. I discuss these 3 ways people can start earning multiple streams of income and build their wealth. My book will be published Summer 2019 with my book publisher, Black Card Books.

When writing my book, I conducted interviews with various industry experts including Ellen Roseman from The Toronto Star, Mark Noble from Horizons ETFs and Gloria Yeung who is the #1 Real Estate Agent with Condos.ca.

My vision is to make people feel comfortable having conversations about money and mental health since they can be touchy subjects. Yet these are topics that have an impact on our daily lives. As a proud female Author, Investor and Speaker, I am dedicated to helping women's organizations and empowering young professionals to become financially independent. I have dedicated one entire chapter towards women and how they can deal with their finances and why it is so important for women to start saving and investing.
UK: How did you get in touch with the industry experts? Did you like cold email them or you have met them in person?
SY: Yes, usually through networking events or through other friends' connections. But, I think it's more about being proactive and going out to workshops and events, introducing yourself. I find that the financial community within Toronto is a close-knit group. They are all so friendly and helpful and it's really great that way.

UK: How long did it take you to write the book?

SY: I am still working on it. I have completed the manuscript and I have a team of editors who are reviewing it. I would say that it will be just over a one year process. It is scheduled to be published by this Summer. I will be sure to invite you and your readers to my upcoming book launch!

UK: What are one to three books that have greatly influenced your life?

SY: I have read many personal finance and investing books and listen to various podcasts. I have so many to choose from. My top three favourite books are: Rich Dad, Poor Dad by Robert Kiyosaki. This was the first personal finance book that my university classmate recommended me to read. I call it my gateway book into the personal finance and investing world. A recent one I read was Smart Women Finish Rich by David Bach. I love this book because it is a fairly comprehensive guide to get all your financial matters organized. It helped me and my husband organize our financial documents in an excel sheet and keep track of our budget, net worth and investments. I also like The Millionaire Next Door by Thomas J. Stanley. There are many myths about the lifestyles of millionaires. This book shows the research behind how millionaires created their wealth and how they keep it. It was an eyeopener and made me realize that millionaires are frugal and have the habits and discipline to create a 7-figure nest egg for themselves.

Additionally, I enjoyed Girl Wash Your Face by Rachel Hollis. I first discovered Rachel Hollis by listening to an entrepreneurship podcast. Then I read her book Girl Wash Your Face which talks about her personal mental roadblocks and how she overcame them. It is really an emotional and uplifting story and I feel that she is able to connect with her audience and help inspire women to be their best.
Lastly, Girl Stop Apologizing by Rachel Hollis. This book came out this year and is a sequel to Girl Wash Your Face. This is more of a "how-to" book which gives step-by-step actions that women can take to build skills, change their behaviours and improve their personal and professional life.

UK: Let's say a 27-year-old nurse, she makes about 60K/year and wants to save about 10 percent yearly for her retirement. Would you tell her to go with a TFSA or an RRSP?

SY: Right. I would say that it's great that she has that goal to save 10 percent for her retirement which is the standard. I would suggest that if it is possible, she could even save up to 20 percent. In your twenties, you still have about 30 to 40 years until retirement. Saving more earlier on will get you faster to reach your goal. You will get a head start and will also get aid from compound interest.

But, say you have a $60,000 salary and you save 10 percent, that's about $6000 a year which is great. It just happens this year's TFSA contribution room is $6000. If you haven't opened one yet, then your contribution total is $63,500. What's great about the TFSA is that anything you earn, it is tax free. I would suggest contributing to the TFSA first and then if you have extra money to save, then put it towards your RRSP. If you are in a higher tax-bracket, by contributing to an RRSP you can lower your tax bracket.

UK: Sandy, do you mind sharing how do you invest your money and what's in your portfolio today?

SY: Yes. I am a self-directed investor with an online brokerage. I practice long-term, passive and value investing. I am proud to say I reached a 6-figure portfolio by age 27.I would say that for myself I have about 90% in equities or stocks and 10% in bonds. I do it because I have about a decade of experience and have read dozens and dozens of books. I purchase mainly ETFs and my ETFs consist of all of the TSX. Plus, I have banks' stocks which I love and I heard Larry Bates likes it too (Laughs). And, for the US, I have like all US equities, large-cap and consumer staples/international stocks.

For real estate, my husband and I own a property in Toronto. We rent out a condo. And, I just purchased a pre-construction condo in Kitchener which will be opening Summer 2021. I am planning to rent out to working professionals in downtown Kitchener. It is the "Silicon Valley of the North". Many startups such as Google and Communitech are there.

UK: Which online brokerage do you use?

SY: I use Scotia iTRADE.

UK: Earlier, you mentioned you reached a 6 -figure portfolio by age 27. This is definitely not an easy task and I would say maybe an extreme example. For someone who wants to reach 6 figure in their 20's or 30's, what advice would you give them? How were you able to reach 6 figures at such an early age?

SY: When it comes to investing, I break down the numbers. I sat down and created my own excel sheet although I am sure there are excel sheet templates out there. Then, I asked myself what goals do I want to achieve and by what age? Because that really defines your time horizon. Like how many months or years do you need to achieve certain things. I would suggest even if you are only saving a couple of hundred dollars a month, it may not seem like a lot but with compounding interest depending on what you are investing whether stocks or bonds, your money will grow over time. So, I would say start investing early as you can.

I also lived at home for the majority of my twenties so that way I was able to save a lot more money. I mean I made a very modest income during my first five years of working but it is because I was very disciplined and I saved probably 40 or 50 percent of my paycheck towards saving and kept investing. Eventually, it becomes very fun and addictive (Laughs). It is doable if you are disciplined.

UK: Lastly, what are bad recommendations you hear about personal finance and investing in Canada? What advice should Canadians ignore?

SY: Within the past year or two, I have had coworkers buying cannabis stocks and investing into cryptocurrency and bitcoin. I quite frankly am not a fan of either of those industries. Of course, there are people who have earned a lot of money, but there are also people who have lost a lot of money. I think that it is important to not get caught up in the buzz and hype. Some people risk their life savings and gamble their money away in the stock market. It is better to figure out your financial goals and find safer ways to invest your money in the long-term – as opposed to a get rich quick scheme. If it is something you are interested in investing in, then take no more than 5% of your portfolio and buy certain stocks. But be willing to lose all that money. This way you can still have some fun, but don't need to lose sleep at night.

UK: Thank you Sandy. Where can people find you?

SY: Your followers and readers can find me at my website www.sandyong.com .Readers will be able to access a free copy of my book by signing up to my newsletter at www.sandyyong.com. Feel free to follow me on Facebook and Instagram @themoneymasterbook and Twitter @moneymasterbook. Lastly, I am honoured to be partnering with CAMH: Centre of Addiction and Mental Health to support mental health research and families who have been impacted. $2 of each book sold will be donated to this charity.
This interview has been edited and condensed.