Imagine yourself in the following situation: You buy a lot of things via Amazon. You are a Prime member. You buy an item and on the day of delivery, you are excited.You check your door and mail box multiple times during the day. Nothing.You check again. Negative.You see your neighbour walking her dog.You produce a smile – the kind of smile a flight attendant gives you when he or she is trying to be polite (Would you like a cookie or pretzels? LMAO). It is dark and almost 8 p.m. In a flurry, you sign-in into your amazon account and check "Your Orders" to find out what is happening. You click on "Track package".

You see this.
This was my first time dealing with Amazon missing it's promised delivery day. Free two-day shipping is one of the chief benefits of being a Prime member. But, I got a message on my amazon account saying – "We're sorry your parcel is late". What do I do? Do I just wait for a couple of more days? To probe this question, I did some digging on the internet. By the way, the internet has made all of us citizen journalists. IMO, we are all journalists.

After a bit of research online, I learned that Amazon may actually compensate you if an item does not make its guaranteed delivery date. Of course, there is no free lunch. You can read more here about Amazon's Guaranteed Delivery Terms and Conditions.

How to contact Amazon about a late delivery

To contact Amazon, it's best to go through their "Contact Us" page. Then, there are 3 steps to follow. Easy peasy.

Amazon will ask you – "What can we help you with?" You need to choose "An order I placed".

Consequently, Amazon will ask for more details about your issue – "Tell us more about your issues". You need to select "Where's my stuff?" on the first drop down box and "Shipment is late" on the second drop down.

Finally, you will then be given the choice to contact Amazon via phone or live chat.

I always prefer the live chat option because it is always faster than a phone call IMO. I clicked on the chat option and the chat agent was live in less than 5 seconds. I was thunderstruck. Ah, the glowing reviews about being a prime member. Now, I get it. Heck, I got disconnected the first time and the second agent was live again in less than 5 seconds. Checkmate.

Below is the transcript of my chat with the Amazon agent. Everything was done under 3 minutes.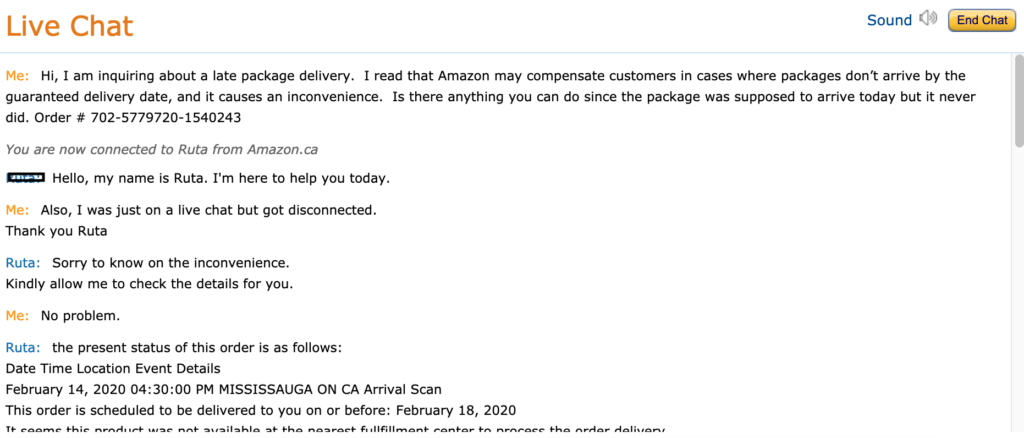 Pro Tip – Be polite and you will have more luck with the agent. Writing in all caps will get you no where. Additionally, they will first offer you a $5 promotional code rather than a free month of Prime. Tell them you want a free month of Prime instead. That way, you can get an extra month of free two-day shipping, access to prime video and exclusive deals available only to Prime members.

This was my experience with Amazon. What about you? Have you received a credit or free month of Prime after your package was delivered late? I would love to hear from you.