I got tested yesterday at 1142am.
My appointment was for 1130am-12pm. I got at the Toronto Western COVID-19 Assessment Centre at 1135am. This is the address for the testing centre – 347 Bathurst Street. It is located right at Bathurst and Dundas.
How long was the line? No line.
I started laughing out loud.
I noticed McDonald's and Tim Hortons across the street. I started to giggle like a nine-year-old girl when she sees her crush. I want to make love with junior chicken sandwich. What about you?
I was greeted by a hospital security guard at the door. He asked me for my proof of my appointment. I showed him the UHN email on my phone. He instructed me to use the hand sanitizer. Further, he applied a tiny round sticker around my upper right chest area. It was green in colour.
I got in. The first lady asked me for my health card and my phone number. This was the registration part. Then, I was asked to move to the assessment window where a nurse asked me if I had any symptoms, if I had travelled recently, et cetera.
This took less than 5 minutes.
I was then directed towards the private testing room. I see this picture on the wall as I am waiting in the room. I started to wonder how much is the compensation? How much is the injection dose? Does Rachel like junior chicken?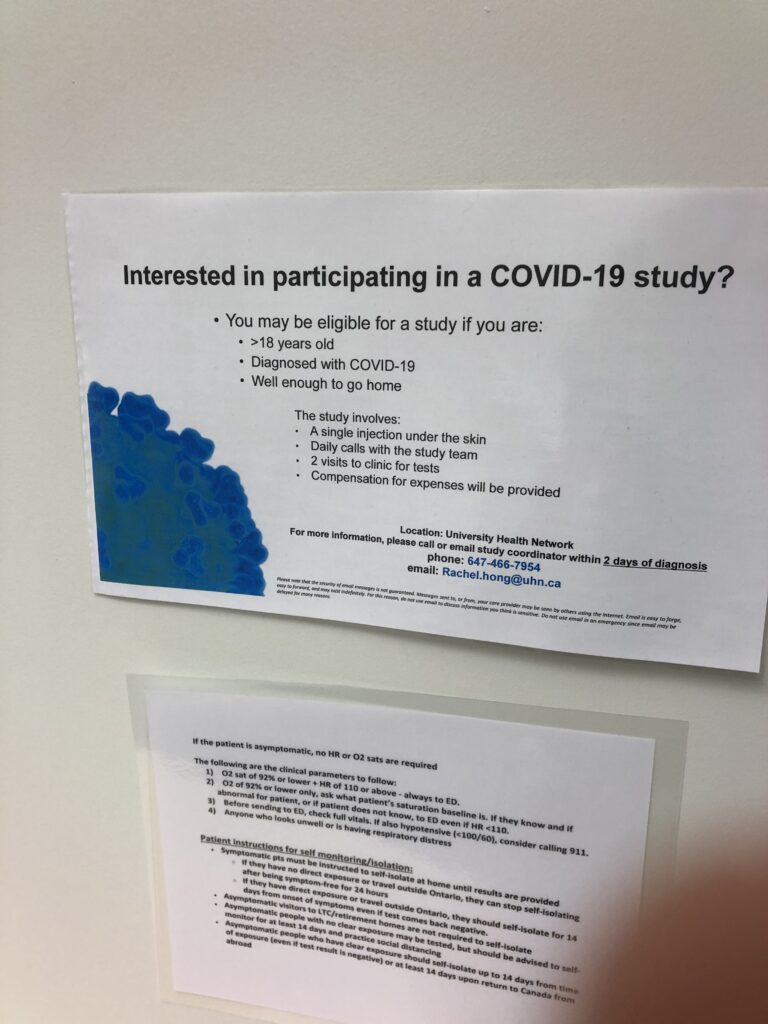 Less than a minute later, a nurse enters the room with a sealed swab package. She makes sure all my information was correct. Additionally, she explained to me – "You will fell discomfort, you will feel like you want to sneeze and your eyes might get watery". I responded by saying I have done at least ten swab tests on my patients. She countered – "Are you a nurse?" I countered back with a strong yes. This is when she took like two steps backwards. I was like WTF.
I just stared at her. LMAO.
She starts taking the swab out, not noticing my stare. Next, she instructs me to only expose my nose and cover my mouth with my mask. I am asked to lift my head up and in it goes. She swirled the swab around my nose for a good ten seconds. I felt a bit of discomfort but it was tolerable. Of course, everyone has a different threshold so your experience might be different. Moreover, it probably depends on the person administering the test. I don't know.
I thanked the nurse and I was out of the assessment centre. Everything was done under ten minutes. Impressive.
I registered for the UHN account online when I got home. I checked around 9pm for any news. Nothing. I checked around midnight again to see for any updates. Still nothing. Fuck, I want to know my result.
But there's a twist before I go to bed. I get an email notification on my phone and I see this.
I log back into my UHN portal account in haste. I see this.
I click on more details. Good news.
In a nutshell, everything was well-done. No line, security guard was super cool. Everyone was professional and polite. Most impressive for me, was the time for result. I got my result within 13 hours. Wow, I thought to myself, that was fast. What was your experience like?
I went to bed last night knowing my sleep will remain undisturbed because I was conscious of my result.
Sadly, I didn't dream last night about me making love with junior chicken sandwich.
Ps. Have you had a COVID test done at Toronto Western Hospital? Or anywhere? How was it? How long did it take to get your result? Comment below xoxo