New post-secondary students go through a lot, as most of them are straight from high school. The time has come for them to leave their Shangri La. Some will be leaving home for the very first time, maybe to a different province, others will have to leave their high school sweetheart and move on. You, my dear reader might be worried about making the cut for your school's varsity soccer team. Good for you but what about finance? Gosh. School starts next week. You have numerous things to worry about and finance is not one of them. I get it. Once upon a time, I was a post-secondary student too. I am 28-year-old as I write this blog post and I am here to tell you that managing your finance should be at the top of your list. If you want your bank account to start sinking like the Titanic upon graduation, please close this window (Bye losers). If not, please stick with me. Here's why. The average post-secondary student graduates owing more than $28,000 (PDF Report) in debt according to Canadian Federation of Students. More, the average student loan payback period is more than a decade. Yuck. This means many of you will be making payments on your student debt until your late 30s. The previous three sentences nauseated me. I got a lump in my throat. Did you get a lump as well? Good. Here are some tips to avoid debt in college or university. Please be aware it is impossible to avoid debt completely during your post-secondary years. I hope my tips will help you to decrease your debt level as you finish off school.
Work On-Campus
One of the best ways to avoid debt during your school years is to find a job that's flexible with your academic schedule. As a result, you can focus on school and make some cash on the side. Well, "on-campus" work is your pal. You can work as a server at your campus pub, you can work in the library or with your athletics department. There are tons of on-campus jobs out there for full-time students. Personally, I worked as a tutor for first year nursing students when I was in school. The work was easy peasy. I could pick my own schedule and the pay was okay too. I believe the pay was 14$/hr. Today, I make 30$/hr as a nurse and I laugh with glee. The point is to generate some income during your school years and build a strong root for your future money plant. How about my analogy? (I know you are thinking, this Urgen guy is smart and so FUNNY).
Purchase Used Textbooks
Why are all these books so expensive? I don't get it. When I was in school, I used to hate buying textbooks. What about the long lineups at the campus bookstore? OMFG. You can do nothing about the price tag of your textbooks but you can research online and find cheaper ones. I found Kijiji to be very helpful when I was looking for used textbooks. In fact, I sold all my books through Kijiji after I graduated. Also, you can join facebook groups where students sell their used books. Heck, some of the books can be left untouched in public libraries. Alas, most of my nursing peers spent hundreds of dollars on guidebooks and review books for our license exam. I borrowed them all from Toronto public library for free. Sure, I had to wait longer at times and sometimes, I could not renew the book but the bottom line is I saved hundreds of dollars. I passed my license exam on the first attempt. Sweet vindication. Some of you are thinking, I can't buy used textbooks when there is a new edition every year. I know, traitors. Rent your textbooks. My friends, online services like Textbook Rental and Book Mob will ship textbooks for you to use and then you can return them back. Game-changing.
Credit Card Usage
First, a credit card does no evil to us when used correctly. I would tell my younger self to get a credit card with no annual fees and pay off my monthly balance in full. Ditto advice for those in school right now. This shows you are responsible with credit and will help to build your credit rating. However, students get into trouble nine out of ten times with credit cards. I vividly remember every year during the first two weeks of the fall semester, credit card companies would set up booths and offer free giveaways. Broke students would devour them like a candy treat. Then, the staff from the credit card company would give you one of those double-handed handshakes and lead you to the booth. Voila. I am speaking from personal experience. The staff would explain the benefits of signing up for the card like free movies, reward cash back program, et cetera. I drummed my fingers on the table as I was about to sign up for this cc but I walked away. I am positive several students signed up for the cc that particular day. Again, as long as you pay your full balance on time, no problem. But, most students tend to pay only the minimum balance on their cc and their bank account starts to sink like the Titanic. The magic of compound interest works against you and god forbid, but 19.99 percent will most likely murder a broke student.
Apply For Bursaries and Scholarships
Without bursaries and scholarships during my post-secondary years, I would be toast. Do your research and find free money to obtain your education without breaking the bank. The notion that you need top grades for bursaries and scholarships is false. This theory is a load of bullshit. One of my co-worker told me her son can't get any bursaries or scholarships because his GPA was low. How low? 3.6 I frowned, scratched my cheek because I graduated with a 3.3 There are several scholarships available for students in all categories and interests. Look up to websites such as Yconic.com (Previously known as Studentawards.com) and ScholarshipsCanada.com and start applying. One of the tricks I used to get more scholarships and bursaries were I used to get along with most of my professors. No, I was not a complete suck-up but it would be fair to call me a professors' pet. Whenever a professor said, "Can someone please pass out these papers or can someone help me carry these bags to my car?" Yup, my hand would go up LOL Sure, you might not need top grades but most of the scholarships and leadership awards need a reference letter or two from your professors. Guess, who would get a solid reference letter? More importantly, if your professor does not know who you are, it will be awkward for both parties when it comes to ask for a reference letter. This trick helped me pour thousand of dollars into my bank account. Last year, I was delighted to create Urgen Kuyee Leadership Award worth $1000.00 and is given to a full time Seneca College student annually. You will be eligible only if your GPA is LESS than 3.3. Stop rubbing your eyes, you read it right. Please do spread the word. You can apply here.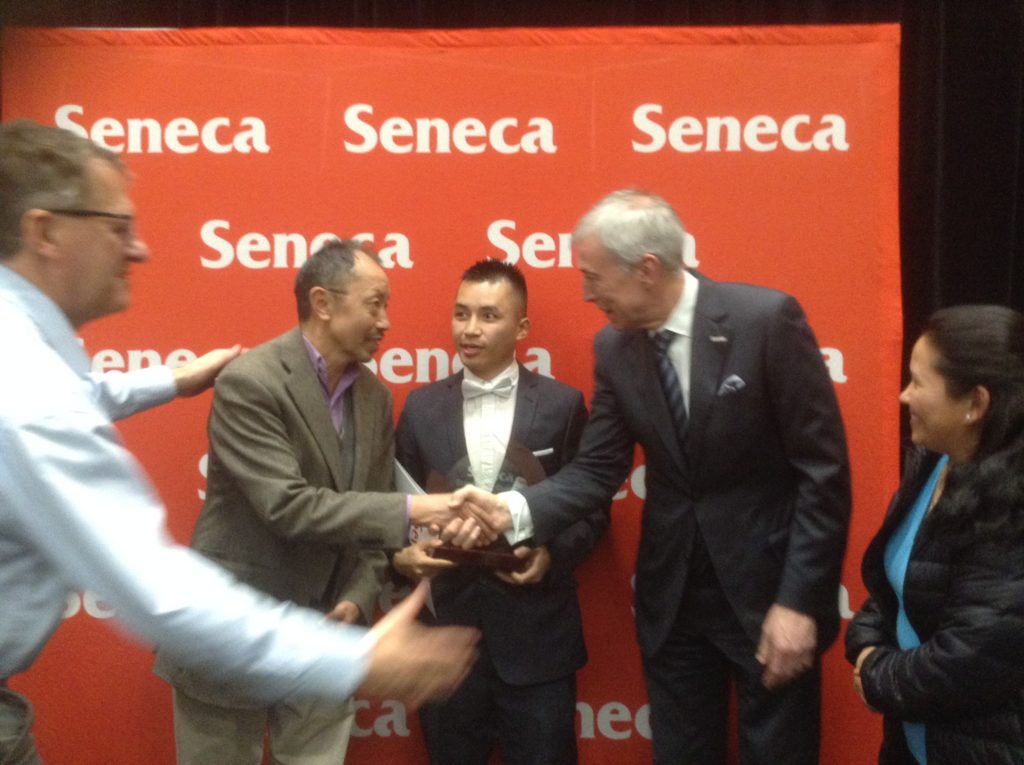 Use Student Loan if necessary
I am aware this sounds counter-intuitive but student loans are better than the ones you get from your banks and credit unions. Again, use only if necessary. If your parents were kind enough to start a Registered Education Savings Plan (RESP) when you were a baby and you needed no help to pay off your tuition, I envy you. No, I hate you. I did not have that luxury. Most students do need some form of help to pay for school. Usually, student loan is the best answer. In fact, in 2014-2015 alone, Ontario issued almost $1.3 billion in grants and loans to students. WOW. And, did you hear about the new OSAP rules? Students applying to college and university for the September 2017 semester will be the first to benefit from the new rules. The new OSAP rules will make average tuition free for students, including mature students and adult learners who do not have a college or university degree and whose family income, in general, is less than $50,000 per year. Magic. Plus, you will almost be guaranteed for grants if you are eligible for OSAP which means you will be receiving free money from the government. Try getting free money from your banks. Not a chance. I rated grants more than my (beautiful) female classmates during nursing school. Sorry gals. If you are new to OSAP, you can get ready by registering with OSAP here.
There is no magic bullet to avoid debt during your post-secondary years. But, with some planning and the tips mentioned above, you will be far ahead of the pack. Baby steps.