Are you a Nurse? Doctor? PSW? Social worker? Physiotherapist? Dietitian? Porter? Food service aide? Are you a healthcare worker?
These are challenging times. Healthcare workers are the soul of every city, every country across the globe. Many of us work in hospitals, rehabilitation centres, long term care facilities, et cetera. This COVID-19 pandemic continues to impact all of us, especially healthcare workers, those of us fighting on the front lines of COVID -19. I know this because I am one of them. I was at work this past weekend and I observed multiple droplet precaution signs on each patient's door. Patients were sneezing, coughing, febrile. I could sense the unease on most nurses. Initially, there was disbelief. Then, confusion. Do we wear a surgical mask on? How many surgical masks can we use q shift? NO, you have to wear this stupid plastic face shield but no surgical mask with it. WTF! Surgical mask only if the patient is on droplet precaution. More disbelief. My opinion is every one in Toronto, Ontario, Canada, North America, Asia, Europe, Planet Earth should be wearing a mask currently.
More crucially, a nurse was plunged into near mourning when she found that she had patients on both east and west side of the floor. LMAO. I could relate to her because I have been in the same situation before. Imagine already having a busy assignment, need to do an admission, paper work, give medications, do care and then, you have to run and answer call bells on both sides of the floor. Oh, by the way you have to put on PPE and take it off, and put it on back again and take it off again as most patients are on droplet precaution. You get the point. I am fully aware doctors and nurses working in emergency are going through a crisis 100* worse than my workplace. Like you, I have seen pictures on social media. Kudos to them. The headlines are horrifying, sickening and outrageous but I can only talk from my experience.
Other than hand washing and social distancing, I don't have many good answers. I do believe everyone should wear a mask though.
Lastly, my brother is giving a FREE three-month subscription of Audiojoy during this difficult time to all healthcare professionals fighting on the front lines of COVID -19. I know this small gratitude will help all healthcare professionals. I am a bit biased but I have used this app and it is extremely effective after a long, stressful shift to listen to relaxation music, meditation tips and sleep sounds. Additionally, the content on the app is electric and olympian.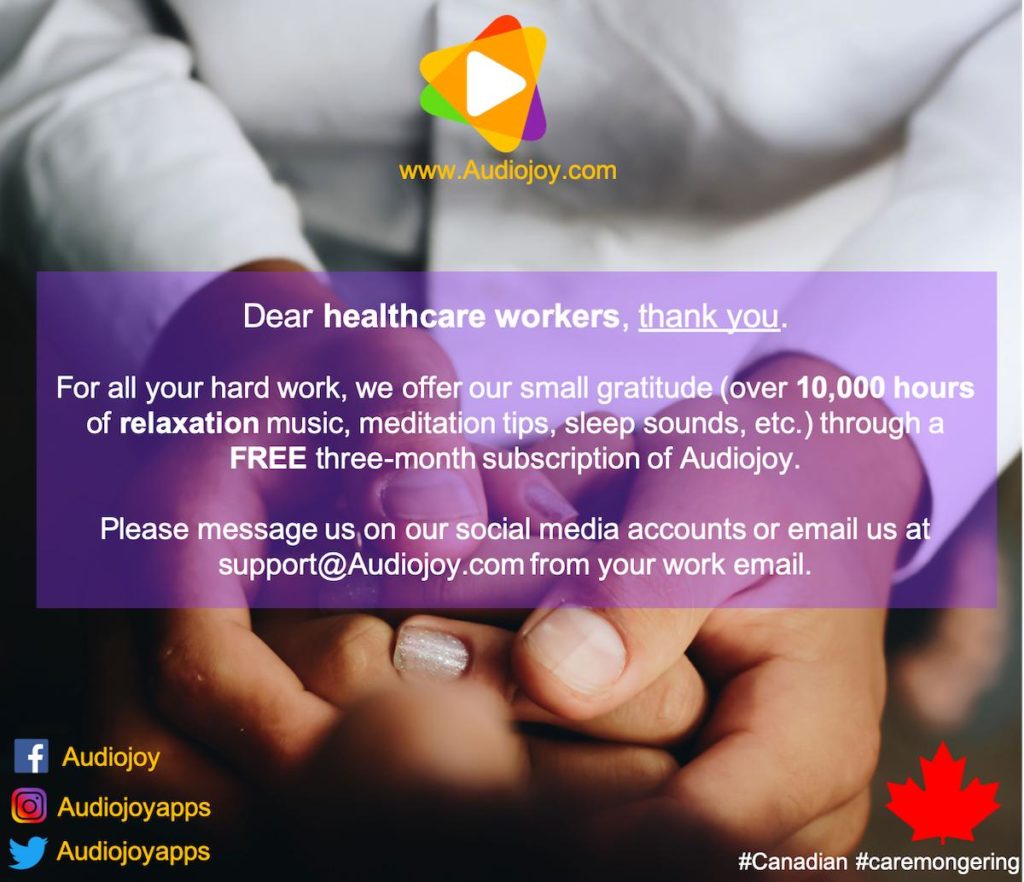 Full disclosure: Audiojoy is a small SAAS business fully owned by my brother.

K one more disclosure: Audiojoy's marketing manager position is held by your's truly.
Nurses, PTs, OTs, PSWs, Doctors, RDs, Food Service, Porters, Housekeeping, Healthcare professionals – if you have any stories or anecdotes to share in relation to COVID-19, I would love to hear from you. I have shared a couple of short anecdotes above, now it's your turn. Comment below or shoot me an email xoxo